Managing Your Subcontractor Team
Managing Your Subcontractor Team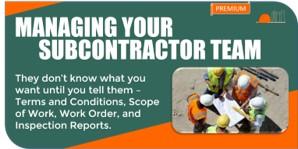 This course is critical for your business!!
The only way for you to guarantee that a project is built to your specifications and to the client's requirements is to tell your subcontractors what you expect of them and then follow-up with inspections to make sure that your project quality requirements are met.
This course provides a process for doing that.
It starts with the TERMS and CONDITIONS document that tells each subcontractor how to behave on your project.
The specific SCOPE of WORK for each trade describes your expectations for what the subcontractor is to provide.
The PRE-START INSPECTION affirms that the windows weren't broken or the bathtub scratched or the job site a mess before the subcontractor started work.
The EXIT INSPECTION determines whether or not the subcontractor has done the work you require, reduces call-backs and punch lists that go on forever, and provides the rationale for not paying the subcontractor until the phase is complete
Managing Your Subcontractor Team
Your download of the Subcontractor Management System
Systematize Your Subcontractor Team With This Set of Documents
Monitor Subcontractor Insurance Certificates