Manage Your Subcontractors From Your SmartPhone
Manage Your Subcontractors From Your SmartPhone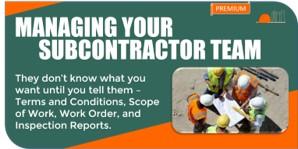 Have you ever been walking a job site after a subcontractor has just "finished" his work, and noticed some task that was left undone?  So, you grab a piece of wood, look around for something to write with, and wind up scratching yourself a note on a broken piece of OSB with a bent nail?  I have.
And you walk into your office with three or four stray pieces of wood, all with critical information etched on them, hoping you will be able to decipher it in the morning?  Yep.
And your receptionist looks at you kind of funny when you dump the pieces of wood on your desk?  Mine has.
If you have been checking out the Subcontractor Management Documents from Builder Resources, you know how important that quality checklist is for making sure everything gets done.  The problem has been making sure you had the right form with you at the right time.
Access isn't a problem any more. If you have your phone, iPad, or laptop-- you've got the quality control tool you need.
See what the web-based version of the Subcontractor Management System has to offer.
(If you aren't a member yet, take advantage of the free lessons presented below.)
Monthly
Monthly subscription for one user.
First month is $4.00, then $9.99/month.
FEATURED
Annual (Save 17%)
Annual subscription for one user.
Your Access to the Web-Based Subcontractor Management System
Systematize Your Subcontractor Team With This Application
BONUS: Monitor Subcontractor Insurance Certificates